Now, choose your Hello Web App package
Get everything you need to launch a your first web app and then add intermediate features like an API, customer payments, and more.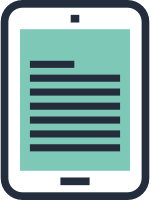 Buy the eBooks
The digital books, lovingly designed by Tracy herself. Comes in PDF, .mobi, and .ePub formats for each.
Please note that the book was last updated for Django 3.2 and may be out of date. As it covers beginner concepts, most (maybe all?) may still work. But please reach out for a refund if it doesn't work for you.
Buy for $34.95
Price is in USD.